We're proud to say we've grown over 200 different species of US Native species with a local focus on the species native to Long Island, NY and the surrounding areas.
Our native plants have been supplied by Long Island Natives for numerous ecological restoration efforts and counting.
We are truly grateful for our knowledgeable, dedicated hardworking nursery professionals who are on site everyday doing what they love.
At Long Island Natives, we recognize the opportunity to grow for ecologically critical projects in our region. Our company blends horticultural expertise with environmentally sound growing practices.
We offer custom growing opportunities to ensure the plants you'll need for your project are ready on time, healthy, and regionally appropriate. Our nursery boasts over 70 years of horticultural industry experience.
Long Island Natives aims to grow a diverse selection of both woody and herbaceous species suitable for conservation projects across the Northeastern U.S.
In botany, a sport (or "bud sport") is a part of a plant that shows morphological differences from the rest of the plant. Sports may differ by foliage shape or color, flowers, or branch structure.
Long Island Natives is, metaphorically, a sport of Country Gardens Nursery, which was founded in 1947 in Eastport, NY by S. Robert "Bob" Gettinger.
Bob's son Brad joins Country Gardens Nursery.
Brad takes over day-to-day operations at Country Gardens.
Brad's son Matt joins the business, ushering in the third generation of this family-run operation.
Long Island Natives is formed with the sole focus of growing native vegetation for use in the naturalized landscape.
Long Island Natives operates out of a 50 acre farm in Eastport, NY.  The business is co-owned and managed today by Brad Gettinger and Matthew Gettinger, the son and grandson of the late Bob Gettinger.
Long Island Natives is a true family business. Three generations of work have gone into this 50-acre farm, and our family takes great pride in the work we produce here.
"We love working on projects involving the natural environment. Every day our aim is to go out there and do good work, learn, improve and repeat."
President
Matt Gettinger
3rd generation nurseryman holds a degree in Operations Management & Marketing from University of Delaware. Matt is a New York State Certified Nursery & Landscape Professional and currently holds a seat on the board of directors for the Long Island Farm Bureau. Matt is an avid fly fisherman with a passion for the outdoors.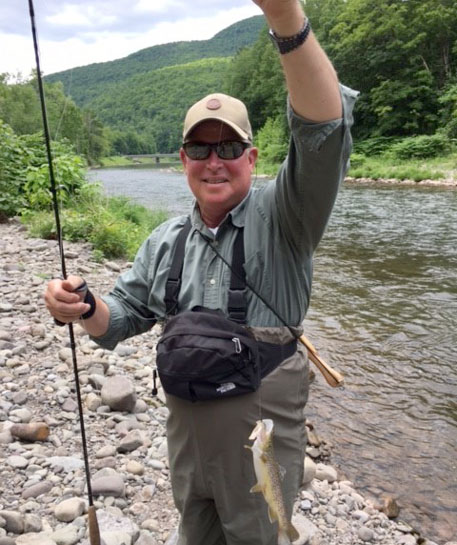 Past President & Director of Operations
Brad Gettinger
Brad holds a degree in Ornamental Horticulture from SUNY Cobleskill and has over 30 years of nursery management experience. Brad is a New York State Certified Nursery and Landscape Professional and a past president of both the New York State Nursery & Landscape Association and Long Island Nursery & Landscape Association. Brad enjoys fishing the seasonal coastal waterways surrounding Long Island as well as the Gulf Coast during the winter season.